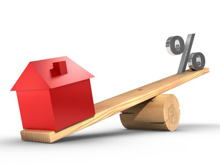 Last week's economic news supported the general outlook for moderate economic growth. Housing related news included the National Association of Home Builders / Wells Fargo Housing Market Index for April and Housing Starts for March.
NAHB: Builder Confidence Holds Steady Amid Concerns
The NAHB/Wells Fargo HMI for April ticked upward by one point to a reading of 47 against the March revised reading of 46. Home builders surveyed expressed concerns about high home prices, a lack of available lots for development and a labor shortage. Some desirable markets have been held back due to low inventories of available and/or affordable homes.
Builders surveyed for the HMI were asked to rate three components used in compiling the monthly index; these include current market conditions, market conditions expected over the next six months, and buyer foot traffic in newly built homes. April's readings were 51, 57 and 32 respectively.
Readings for current market conditions and buyer foot traffic were unchanged from March, but builder confidence for market conditions in the next six months rose by four points.
Any reading above 50 indicates that more builders are confident about market conditions for newly-built single-family homes than not.
Housing Starts Pick Up After Winter Storms, But Fall Short Of Expectations
March Housing Starts rose by 2.80 percent at a seasonally adjusted annual rate of 946,000 starts as compared to expectations of 990,000 and February's reading of 920,000 housing starts, which was revised from 907,000 starts.
The March reading represented a 5.90 percent decrease from March 2013, and is consistent with concerns expressed by home builders surveyed for the NAHB HMI for April.
Building permits issued for March were also lower by 2.40 percent at a rate of 990,000 permits issued. This slippage was largely due to the falling rate of building permits issued for apartment construction.
Higher home prices and mortgage rates along with inconsistent (but improving) labor markets were cited as reasons for builder pessimism, but analysts said that projects delayed by severe weather are expected to pick up in the coming months.
Mortgage Rates Fall, Discount Points Hold Steady
Last week's average mortgage rates fell across the board according to Freddie Mac's weekly Primary Mortgage Market Survey. The rate for a 30-year fixed rate mortgage fell by seven basis points to 4.27 percent. 15-year mortgages had an average rate of 3.33 percent as compared to the prior week's reading of 3.38 percent. 5/1 adjustable rate mortgages had an average rate of 3.03 percent, down from 3.09 percent the previous week. Discount points were unchanged at 0.70, 0.60 and 0.50 percent respectively.
Fed Chair Upbeat In New York Speech
Federal Reserve Chair Janet Yellen struck a positive note in a speech given before the Economic Club of New York last Wednesday. She indicated that the Fed and many economists expect a return to full employment and stable prices by the end of 2016. Analysts characterized Yellen's speech as upbeat on economic recovery and inflation, while "dovish" on monetary policy.
Ms. Yellen reiterated the Fed's intention to monitor current and developing economic situations before making changes to its current monetary policy. She acknowledged that "twists and turns" in the economy could occur, and that Fed policy would shift as needed to address changes.
The Fed also released its Beige Book Report last Wednesday. This report indicated that the economy is recovering in most areas of the U.S.
This Week
This week's scheduled economic news includes Leading Economic Indicators, Existing Home Sales for March, FHFA House Price Report for February and New Home Sales for March. The University of Michigan Consumer Sentiment report for April rounds out this week's news.