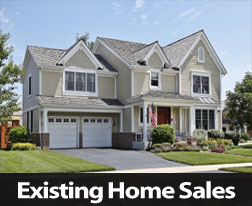 The National Association of REALTORS reported that sales of existing homes in April reached 4.97 million on a seasonally-adjusted annual basis.
Although this reading fell short of Wall Street's expectations of 5.00 million existing homes sold, it surpassed the March 2013 upwardly revised reading of 4.94 million existing home sales. This represents a 0.60 percent increase from March to April, and a 9.70 increase year-over-year.
Low Mortgage Rates Contribute To High Sales Levels
Low mortgage rates and pent-up demand for homes are driving sales of existing homes, which reached their highest level since November 2009.
Lawrence Yun, chief economist for the National Association of REALTORS, indicated that housing market momentum is overcoming obstacles: "The robust housing market recovery is occurring in spite of tight access to credit and limited inventory. Without these frictions, existing home sales would be well above the five million unit pace."
Inventories of homes for sale are gradually increasing; at the end of April, the total inventory of existing homes had increased by 11.9 percent to 2.16 million existing homes for sale. This represents a 5.20 month supply of available homes in April as compared to a 4.7 month supply of homes in March 2013. Listed inventory is 13.60 percent below April 2012, when there was a 6.60 month supply of homes available.
Average Home Sales Prices Up 14 Months In A Row
The national average price for all housing types was $192,800, and increase of 11.0 percent over April 2012. This represents the fourteenth consecutive month of rising average home prices; the last time this occurred was between April 2005 and May 2006.
Homes sold through foreclosure or short sales fell by three percent to 18 percent of existing homes sold in April. Of these sales, 11.0 percent were foreclosure sales and 7.0 percent were short sales. Foreclosure sales averaged 16.0 percent below market value and short sales averaged 14.0 percent below market value.
The Federal Housing Finance Agency (FHFA), which oversees Fannie Mae and Freddie Mac, provided more positive news for U.S. housing markets as of March 2013. Average home prices for homes mortgaged by Fannie Mae and Freddie Mac increased by 7.20 percent year-over-year, and were up by 1.20 percent from February 2013. FHFA also reported that home prices had risen by 6.70 percent in the first quarter of 2013 as compared to the same period in 2012.
New Home Sales Show Rising Trend As Well
In related news, the Department of Commerce reports that New Home Sales are up by 2.30 percent from March to 454,000 units on a seasonally-adjusted annual basis. This handily exceeds Wall Street's consensus of 430,000 new homes sold in April, and is also higher than March's reading of 444,000 new homes sold.
Buyers are turning to new homes due to pent-up demand in housing markets caused by low inventories of existing homes and low mortgage rates. It's also likely that with home prices rising, would-be buyers are acting on indications that record low rates and home prices are expected to increase.
Rising home prices suggest that as demand increases, mortgage rates may not be far behind. Buyers in the Scottsdale market today can still gain the advantage of historically low mortgage rates.