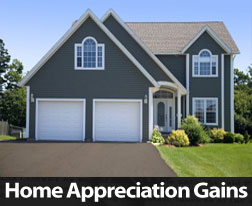 The most recent S&P/Case-Shiller Index showed all three composites posting double-digit increases over the last four quarters. The national composite, which is the broadest based index, showed an increase of 10.2% annually. The 20-City composite posted even stronger annual growth at 10.9%.
Click Here To Download The Full Report
The Case-Shiller Index measures changes in home prices by tracking same-home sales using 10-City, 20-City and national housing markets; and the change in sales price from sale-to-sale. Detached, single-family residences are used in the Case-Shiller Index methodology and data is for closed purchase transactions only.
12 Of 20 Metro Markets Notch Double-Digit Annual Growth
Between March 2012 and March 2013, home values rose in all 20 Case-Shiller Index markets. Phoenix, Arizona (+22.5%) once again was leading the national price recovery, quite possibly due to its precipitous fall during the onset of the housing crisis.
Another notable gainer was San Francisco (+22.2%), followed by Las Vegas, Nevada (+20.6%) On the weaker end were Boston (+6.7%), Cleveland (+4.8%) and New York (+2.6%), but it is important to note that even these smaller numbers still represent significant gains across the board.
There were a total of 12 year-over-year double digit gainers in home value which included those mentioned above as well as Atlanta, Detroit, Los Angeles, Miami, Minneapolis, Portland, San Diego, Seattle and Tampa.
All 20 Metro Markets Show Positive Growth For 3 Consecutive Months
In another very strong supporting point for the housing recovery, all 20 metro markets measured showed positive home price growth for at least 3 consecutive months. This consistency in growth contributes to an overall indication of strength in the housing sector rebound.
The only potential back-pedaling in the report came from noting that higher than normal multi-family housing numbers, large numbers of homes still in the foreclosure process, and significant investor activity may demonstrate that the housing recovery is not yet complete.
This latest S&P/Case-Shiller Home Price Indices report seems to indicate that the housing market continues to show positive growth.
Now may very likely be the best time to move forward with your next Scottsdale real estate transaction. A positive next step is to call your local, trusted real estate professional for advice today.